If it seems I've been absent, well, it's been crazy here! In just two short weeks, your CAD Panacea authors will be presenting several classes at Autodesk University in Las Vegas. My sessions include such strange topics as Insight 360: Energy Analysis…for Architects? and Inviting Formit 360 to the Revit Party!
Insight 360 is a powerful energy analysis tool that can be used in early design stages to help influence design decisions regarding building envelope, orientation, glazing and systems. The focus of this class is to show architects how they can leverage the tools within Insight 360 to create a more sustainable, more energy efficient building…without engaging much from the MEP engineer, if at all. We're not delving into "energy modeling", but simply seeing how an "if I do this, then this happens" scenario comparison can impact building design.
FormIt 360, as noted in a previous blog post, is a new player in schematic design and visualization. In this session, we will take an introductory look at the features of FormIt 360, how it compares to other "sketchy" programs, and how it translates seamlessly into Revit. We will also investigate the use of FormIt 360 with Insight 360, again as an early energy analysis tool.
If imitation is the sincerest form of flattery, then you know what R.K. thinks of Lynn Allen's 60 AutoCAD tips in 60 minutes, with his own presentation of As Many CAD Manager Tips as We Can Fit into a Single Hour!. R.K. will also be one of the four person panel of CAD Managers for a repeat of last year's Drawing from Experience: 4 CAD Managers with More Than 100 Years of Experience Tell All – a 90 minute session also including Curt Moreno, the Kung Fu Drafter; Robert Green, the godfather of CAD Management; former Autodesk employee, current Digital Design Manager, and AUGI Director, Kate Morrical; all led by Rick Ellis, successful President of Cadapult Software Solutions.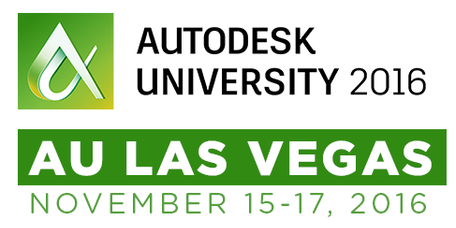 If you have never attended Autodesk University, I would encourage you to check it out. Where else can you find 10,000 of your closest Autodesk friends in one place, networking, sharing information, and having an all-around good time? And if classes are full, no worries. You can still access materials and many of the sessions are recorded for online viewing. Hope to see you there!