Today, we attended the first half of the Autodesk "Move Forward with 2010" event here in Houston. This event was put on by Total CAD Systems at the Reliant Center (next door to Reliant Stadium), and featured Autodesk Technical Evangelist, Lynn Allen, whose unique method of speaking is both informative and entertaining.
Here is Lynn explaining the Autodesk Assistance Program.
For the first ninety minutes, Lynn Allen presented a broad overview of many of the current Autodesk products, emphasizing the movement towards design in 3D. Especially interesting was the brief introduction to Eddie Paul Industries. Eddie Paul uses AutoCAD to design and create all sorts of unique objects including mechanical life sized great white sharks. Eddie Paul also specializes in creating automobiles and other vehicles for the film industry. Very impressive designs using AutoCAD.
In the second session, Lynn Allen covered the new features in AutoCAD 2010, using her AutoCAD 2010 Tips and Tricks booklet as a guide. I've been paying less attention to core AutoCAD lately, and I was able to pick up quite a few things from this session. A large part of this session was devoted to the new geometrical and dimensional constraints in AutoCAD 2010.
Thanks to Roger, Lynn, and everyone at Total CAD Systems and Autodesk that made this FREE event possible. I'm quite sure that providing top quality space and food for the 200 or so people in attendance is not cheap.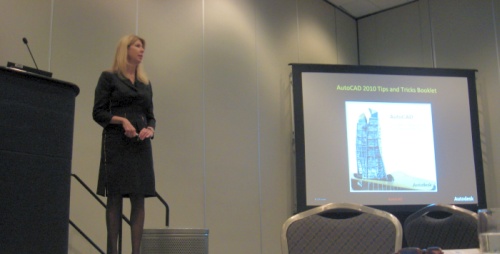 If you don't have the AutoCAD 2010 Tips and Tricks booklet, you can download it here.