CAD Career Observations and Sage Advice — (In other words…Been there, done that…and what not to do!)
Looking back over my 22-year career, I realize that I have not ended up where I planned to go. I graduated from tech school with grand visions of designing stellar mansions or skyscrapers in NYC…until my first internship opportunity. "CAD Drafter for an MEP Engineer?" Sure, I'll take it! After all, I have student loans to pay off!
After my internship, I did a short stint for a network cabling company (not much CAD there), followed by store planning for a major retailer. I then thought teaching classes at the tech school would be a good idea. (It wasn't then.) Next came my first huge jump into civil engineering design. I spent 12 years at three different civil engineering firms, working my way up to Sr. CAD Technician. I also started teaching CAD classes part-time at the local community college. When the economy tanked in 2007, I took my next huge leap of faith back into…architecture!!
Finally it seemed my career had come full circle. I spent 7 years at a small firm, doing architectural design and project management. I got to see my building designs become reality…a legacy for future generations. I felt like my career had peaked, and even thought about retirement or changing careers. Technical writing looked appealing…I had always been frustrated with inconsistencies or errors in CAD textbooks. I thought for sure that technical writing would be my next major career leap. Things were about to change, I was sure of it. I just didn't realize how.
I sent an email off to David Harrington, editor-in-chief of AUGI World (after all, why not go straight to the top?!). I asked his advice for a career in technical writing. I envisioned a life sitting on the beach sipping margaritas and writing how-to's for dummies. His words: "Don't do it!" Say what? During an hour-long phone conversation, David talked me back to reality, and in the same conversation offered me a volunteer position as the Revit Structure Content Manager.  Of course, I accepted. Around the same time, I interviewed for and was offered a position with a larger, progressive AEC firm, which I also accepted. I was promoted to BIM Manager (what do they do?) a few months later. A whole new set of challenges…bringing together both my civil and architectural experiences, with new and different responsibilities.
I'm on the other side of the fence now. The grass is just as green here. I get to solve user issues, create content, manage software, standards and templates, provide training, and keep apprised of industry trends. My creative side is satisfied by creating custom Revit families, while my technical side thrives with problem-solving and tech support. A far cry from designing "McMansions", but the variety of experiences I've had in the past continues to fuel the career I have today.
Why the backward perspective? I defer to Robert Burns…"The best laid plans…" My career hasn't gone as planned, but it has continued to go. I now have a daughter who has just started her college career. I hope that she, my two boys, and others can glean a few things from my career path, such as…
Experience is a greater selling point than paper. Sure, it helps to have a degree, but take opportunities as they arise, and don't be afraid to create your own. You may not step off the commencement stage into your dream job. At one point, I was designing wastewater treatment plants. No "McMansions" in sight! Don't be choosy. You never know where the next door may lead.
You don't know it all. Period. You will have greater success if you don't try to BS your way through a problem. Those who have been around a while will get a kick out of watching you flounder. Find a mentor and be a sponge. Do what they do…but not in a creepy imitator sort of way. That guy in the corner who's a CAD guru? Buy him a donut and ask him to show you some CAD tricks. Works every time.
CAD careers in particular center around technology. Keep up with it! There are plenty of blogs (this one!) and tutorials online. Participate in the Autodesk and AUGI forums. Continue learning. Always. If you're not keeping up with CAD technology, you will become extinct very quickly in CAD world.
Looking back, I have made a few wrong turns, but overall, if I had it to do over again, I wouldn't change a thing. Thank you, R.K., for the opportunity to write this post. Maybe someday, I'll get around to designing that "McMansion"…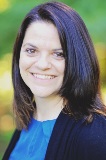 Kimberly Fuhrman, LEED AP BD+C, has more than 20 years' experience in both the civil and architectural fields using a variety of Autodesk software products. She is a Revit Architecture Certified Professional and the
Revit Structure Content Manager.
for
AUGI World
. Kimberly is the BIM Manager for
LSC Design, Inc.
, in York, Pennsylvania. Contact her at
@

FuhrmanKimberly