Exporting Building Sites from Revit is a useful coordination tool for working with Civil 3D. A "Building Site" is not really the site, as we think of it, but a cleaned up model of the building that can then be imported into a Civil 3D project, not only for coordination but visualization as well.
In Revit, it is critical that the model is built according to its function. This should be a given, but exterior walls should be set to an Exterior function in the Type Properties. Same for doors, windows…anything that relates to the exterior building envelope and structure. Only those building elements that have an Exterior function will be exported with the building site.
Create a new 3D view, and turn off everything that is not needed for the export. (Remember that Exterior function? Use that to filter the graphics in the view). Create a Gross Building Area plan at the ground level, and apply the same VG settings to that view as well. You'll want to make sure that your Area Calculations are set to the exterior face of the wall…there is some debate between architects and civil designers over what exactly is the "exterior face", so be sure to communicate the correct boundary for accurate square footage.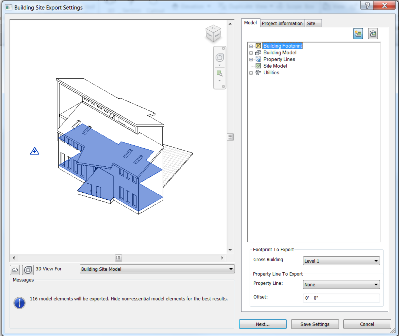 Return to your 3D view, and from the application menu (the big "R"), click Export=>Building Site. The dialog here gives you a preview of what exactly is being exported, as well as giving you an opportunity to modify project location information. Click 'Next" to open the Save dialog box. Building Sites are saved in an .adsk file format, which is then easily imported into a Civil 3D project.
In Civil 3D, the area plan will show the building footprint in any plan view. In a 3D view, the building model is shown. If any utility connections have been place in the building model, it is possible to connect the pipe network directly to the building.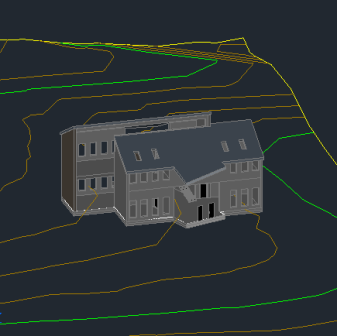 Usually, the Reviteers are trying to bring Civil 3D surfaces into Revit. This method is a great option for coordination on the Civil side, and both disciplines can coordinate and communicate more effectively.