Since the dawn of AutoCAD, the debate has raged on regarding drawing setup and project management. Model space versus paper space drafting. External references…yay or nay. Truth is…there really isn't a right or wrong answer. One would think though, that the software makers would have included these tools for a reason. Not utilizing the software to its fullest potential is a common theme among the AutoCAD users I've encountered. The question remains. Why?
My humble opinion is this. We (generalizing AutoCAD users) make excuses. "I don't have enough time to learn everything.", "My company won't pay for training." "It's just the way we've ALWAYS done it!" We get into a comfortable rut, chugging along with the tools and procedures that we know, acknowledging that more tools are available for our use, but refusing to delve in the unknown. In a way, we are cheating our employers and clients of increased productivity, simply because we are comfortable. Can we or should we change this culture? If so, How?
How many times have we upgraded our AutoCAD version, only to immediately customize the interface so it looks like the last version? I'm sure there are many of us "old schoolers" who still type in commands or overuse shortcut keys (guilty). I started using AutoCAD with a digitizer and 16 mouse buttons. I still don't know what all the buttons did. I was mentoring a brand new AutoCAD student just last week, and it took all I had not to teach her my bad habits. "Type in this command…no, wait…there's a ribbon button for that."
My challenge to you is this. Take just a few minutes today to learn one new feature in AutoCAD. Just one. Then tomorrow, find another one…you get the picture. There are plenty of resources at your fingertips. Assuming you're reading this blog on some kind of technological device, you are just a few clicks away from increased AutoCAD knowledge. Don't overwhelm yourself trying to learn everything at once. "Rome wasn't built in a day"…but who knows, maybe you can build your AutoCAD repertoire one new feature at a time.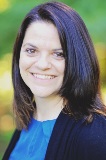 Kimberly Fuhrman, LEED AP BD+C, has more than 20 years' experience in both the civil and architectural fields using a variety of Autodesk software products. She is a Revit Architecture Certified Professional and the
Revit Structure Content Manager.
for
AUGI World
. Kimberly is the BIM Manager for
LSC Design, Inc.
, in York, Pennsylvania. Contact her at
@

FuhrmanKimberly